Community Planning: Methods
Community planning event
description
more detail
brief history
Community planning events allow people to produce plans of action at carefully structured sessions at which all those affected work creatively together. They can be used at any stage of the development process and provide an alternative to reliance on bureaucratic planning.
The nature of the community planning event is decided on and agreed by the main parties involved. There are many common types and the scope for inventing new formats is unlimited. Events may last for an afternoon, a weekend, a week or a month.
Preparation takes place including arranging timetables, venues, publicity, equipment, technical support, background information.
The event is held, often assisted by a facilitator or team of facilitators from elsewhere. Proposals for action result.
The event is followed up to ensure that proposals are put into action
Photocredits
Prague, Czech Republic, 1996,
John Thompson & Partners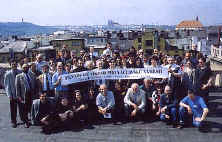 Working together
Local residents, business people, professionals, officials and politicians all work creatively together for an intensive period. Conventional boundaries tend to break down, releasing spirit, humour, imagination, positive thinking and collective creativity. Photos such as this are often taken to celebrate this energy.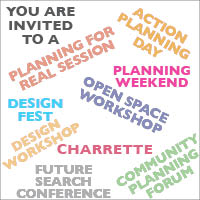 Described in many ways
Tips
Careful planning and preparation are essential. Try and get some documented research and preliminary consultation input from key interested parties prior to an event. The creative burst is always part of - albeit a key part of - a longer process.


Imaginative timetabling is crucial. Try linking up with other activities such as local festivals, anniversaries, conferences, etc.
Costs
Cost can vary immensely from virtually nothing to tens of thousands of dollars. There is usually an event suited to most budgets, and scope for securing support in kind from interested parties
Community planning event timetable structure
Common for many events, regardless of length.
Introduction
Tours, briefings, icebreakers, launch.


Problems/Issues
Workshops, plenaries, individual and group working.


Solutions/Options
Workshops, plenaries, design sessions, individual and group working.


Synthesis/Analysis
Individual and group working.


Production
Report writing, photo selection, drawing, model-making.


Presentation
Slide show, film, public meeting, symposium.
Brief history
Some key moments in the evolution of community planning events.
1967
American Institute of Architects (AIA) responds to citizen in Rapid City, South Dakota, USA and sends a team of architects to look at problems facing the community. Programme of Regional/Urban Design Assistance Teams (R/UDATs) launched by AIA with an average of five events organised each year. Process improved with each experience.
1978
Similar programmes start to be evolved locally in the USA at state level by universities and colleges and by local partnerships including local AIA Chapters. These become generally known as Design Assistance Teams (DATs) although programmes have different names.
1980
AIA starts Generic R/UDAT programme to deal with problems common to many communities. Three events are organised over the next five years.
1981
Planning Assistance Teams programme started by US Air Force using R/UDAT process during weekdays to examine planning issues relating to its bases. 125 events held over next 10 years.
1985
First UK pilot event organised in St Mary's, Southampton by the Royal Institute of British Architects. It is called a Community Urban Design Assistance Team (CUDAT). Attempts to start a similar programme and support service to the AIA fail to get off the ground.
1988
Birmingham's 'Highbury Initiative' introduces 'think tank' style events to the mainstream UK regeneration scene. Handful of UK practitioners and community leaders take part in a joint US/UK team for a Generic R/UDAT in Pittsburgh, USA. It is the largest event ever held and is visited by HRH The Prince of Wales. This leads to a handful of events in the UK organised independently by those who took part.
1989
First UK 'community planning weekend' held at Bishopsgate in London's East End. Duchy of Cornwall hosts 'planning weekend' at Poundbury, Dorchester.
1990
American Institute of Architects produces handbook encouraging others to provide organisational support frameworks at state and local level. Over 100 R/UDATs and several hundred DATs have now been held throughout USA. Urban Design Group organises its first event at Wood Green, London.
1991
UK consultants team up with German group and organise a 'planning week' in Moscow. Urban Design Group organises week-long 'UDAT' in Pereslavl Zalessky near Moscow.
1993
Business in the Community organises its first event at Burgess Park, London. Urban Villages Forum organises its first event at West Silvertown, London
1994
Urban Design Group announces intention to mount UK support framework.
1995
'Action Planning Task Group' formed by handful of national organisations to coordinate promotion and support services. UK consultants organise events in the Shankill Road, Belfast and at Hellersdorf, East Berlin.
1996
Action Planning handbook published by The Prince of Wales's Institute of Architecture. Launch event at St James' Palace, London.
1997
First Middle East event held in Beirut and Sidon.
1999
First Enquiry by Design events organised by The Prince's Foundation at Northampton and Basildon.
2003
First major Stakeholder Participation Day organised for Cambridge Southern Fringe area development framework.
2005
UK Government reinforces need for Community Planning Events in its Planning Policy Statement on Delivering Sustainable Development (PPS1).
2006
First trial Reinvigorate event organised by British Urban Regeneration Association in Bristol.
2008
Publication of The Community Planning Event Manual; a revised and updated version of Action Planning.
Suggestion for brief history


The site editor will contact you to let you know whether the material can be used, what further information is needed.