Community Planning: Methods
Roadshow
Roadshows combine a series of workshops, exhibitions and a symposium to generate professionally produced urban design proposals based on local people's wishes. They are a good way of generating a critical mass of energy for securing wide debate and an impetus for implementation.
An overall theme is agreed by the organisers (such as vacant sites or rundown estates) and a number of sites in a neighbourhood selected for attention.
Teams of professionals are selected by open competition to prepare improvement schemes for each of the selected sites.
The chosen teams facilitate design workshops with local residents, prepare proposals and present them in an interactive exhibition.
A final, highly publicised symposium is held to debate the results and generate momentum for the scheme's implementation.
Photocredits
Muncie Design Studio, Ball State University, USA, 1997, Tony Costello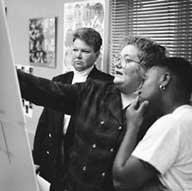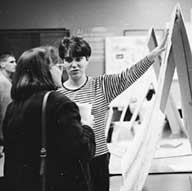 Exhibition of proposals
Proposals from the design teams are publicly exhibited to encourage discussion and dialogue which is continued at a public symposium.
Tips
Roadshows are most likely to succeed if organised by an independent body with the active support of the local authorities and community groups.


Other publicity and involvement activity undertaken at the same time (eg school workshops, video soapboxes, radio phone-ins) can help generate momentum.
Costs
Main costs: organisers' time (3 person months at least); publicity material, fees for design teams (optional); venue for symposium.
Sample roadshow timetable
Jan-Mar Preparation. Decide on area, theme and sites. Secure support from key groups, and funding. Prepare format and logistics. Apr Announce competition for design teams. Open competition to select professional teams. June Select teams. Based on ability to work with local communities as well as on technical ability. July Official public launch. To secure media publicity. Aug-Sep Public workshops. To brief design teams (one workshop for each site).
Schools programme. Workshops generating proposals from children.
Video soapbox. Prominently located to gain views of wider public. Oct Design time. All-day crit for all design teams and key local stakeholders to share approaches prior to finalising proposals.
Exhibition of proposals. With provision for people to comment. Preferably held at on-site locations as well as at a locally prominent venue where the symposium is to be held.
Symposium. With high profile speakers and media. Nov Scheme revision. In the light of comments. Dec Report published.


Ideal numbers: 10 sites and design teams
Total time period: 1 year
Sample advertising leaflet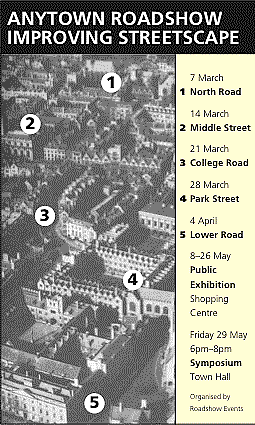 Key components: Map showing sites; times and locations of workshops, exhibitions and symposium; details of organisers, sponsors etc; aims and objectives.
Inspiration
"It's a wonderful format; this teach-in on matters that we all have opinions about with people who are knowledgeable. It's started a discussion that's desperately needed about taking control of our own environment. May the debate roll on"
Roger de Freitas, Hammersmith Society Summary symposium, Architecture Foundation Roadshow, 28 May 1998.
Thanks