Community Planning: Methods
Architecture centre
Architecture centres are places set up to help people understand, and engage in, the design of local buildings and the built environment. They can become focal points for local environmental initiatives and a shop window and meeting place for all those involved in shaping the future of their surroundings.
A suitable building is found with space for exhibitions, seminars, and social activities. It will normally be a building of architectural or historical interest.

Permanent and temporary exhibits are mounted relating to the built environment.

A programme of activities is organised designed to stimulate interest, start initiatives and provide educational experiences for young people.
Photocredits
Hackney Building Exploratory, London, UK, 1999, Nick Wates.
Bringing the built environment alive
Discussion takes place around a model of the local area built from recycled materials over 6 months by 350 school children.
Tips
Lots of space is needed in order to be able to house models and exhibits.
Centres need time to generate momentum. At least a three-year set up timetable is advisable.
Centres can be themed depending on the needs of the localiity. A historic area might be better off calling it a 'Conservation Centre' or a 'Heritage Centre' and focusing the exhibits and activities accordingly. Where the emphasis is entirely on education, it might be called an 'Urban Studies Centre'.
Centres can be set up by local authorities, education institutions or local amenity societies. They are likely to work best if they are independent, perhaps starting off as a partnership venture.
Costs
Main costs: building and running costs, staff, exhibits. Scope for sponsorship from the building industry and educational grants.
Sample promotional poster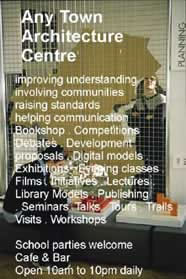 Architecture centre exhibit ideas checklist
Aerial photo
Of local area (people love aerial photos of where they live).
Building date maps
Showing what was built when.
Building models and plans
For typical or interesting local buildings.
Conservation map. Showing location of historic buildings and landscapes.
Construction models
Models of vernacular building methods, brick bonds, window details, etc.
Development proposals and ideas
Drawings and models of proposed new construction in the local area with comment facilities.
Electronic or digital map
Computer terminal.
Geological model
Showing rock strata. 'What is beneath your home?'
Historical maps
Showing development of the area, war damage, etc.
House-type photos
'Put a sticker on the house you would most like to live in' (distinguish between adults, children, visitors).
Local area map
'Stick in a pin to show where you live.'
Local area model (see photo in description)
Accurate and detailed or conceptual.
Neighbourhood jigsaw
Lift up pieces based on district boundaries to reveal street plans, transport links, sewage systems, etc.
Site models
Block models of a range of different styles of development in the area. 'Guess which is which?'
Space photo
The view from a satellite. Good crowd puller.
Technical services
Displays showing how things work; plumbing, insulation, electrics.
Tracing paper ideas
'Sketch your ideas on overlays of maps or drawings'.
World map
Stick in pins to show where your parents come from.
Inspiration
"You just want to reach out and touch and play with all the displays. I never knew buildings could be so exciting."
Janet Ullman, resident, London, on Hackney Building Exploratory,
London,1998.

"The number of visitors we¹ve had in our first two years ­ 30,000 ­ shows there is a real public demand for what we have to offer."
Sasha Lubetkin, Director, Bristol Architecture Centre, 1998.

"These organisations are the key to greater public participation and access to the wider debates on architecture and related social and political issues."
Marjorie Allthorpe-Guyton Director of Visual Arts, Arts Council of England, Report,1999.
Thanks: Polly Hudson. Barry Shaw.