Community Planning: Methods
Review session
Review sessions are a useful way of monitoring progress and maintaining momentum. They can be held weeks, months, or even years after an action planning event or other community planning initiative.
All those involved in previous activity are invited back to a session, normally lasting for one day. Invitations can also be sent to those who may wish to become involved in the future.
A programme is designed to review progress, evaluate earlier initiatives and determine the next steps (see sample format).
A report of the session is written up and circulated.
Photocredits
Mount Wise, Plymouth, UK, 1999, Nick Wates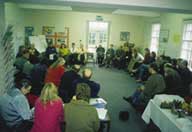 Reviewing progress
Team members and participants of an action planning week meet 16 months later to review progress and plan further initiatives
.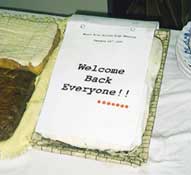 Reunion
Cakes made by a local resident set the tone for team members returning to the scene of an action planning event for a review session.
Tips
Timing is important. Holding a review session too soon will be pointless. Left too long and you may lose momentum.


Make it an enjoyable event by including opportunities for socialising and networking.


Evaluating precisely what outcomes have resulted from any particular initiative is always difficult because there are so many variables. No one is likely to have the whole picture. Produce a draft of the Progress Monitor (see sample formats) and circulate it for comment.


Good opportunity to get new people and groups on board, particularly those feeling excluded by not being involved previously.
Costs
Main costs: venue, preparation, travel costs, refreshments.
Review Session Timetable

10.00 Arrivals and refreshments
Viewing of display material. 10.30 Walkabout
To observe progress on the ground. 11.15 Report back
By those undertaking initiatives. 12.15 Evaluation sessions
General review as a group. 12.45 Lunch
(plus evaluation sessions for special groups, eg external team members).
14.00 Next steps
List actions needed now and by who. 15.15 Refreshments and networking

Ideal numbers: 30 ­ 40

Sample brief
For a review session on an action planning event.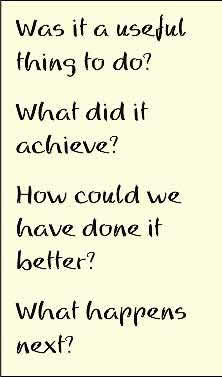 Thanks: Dick Watson