Community Planning: Methods
Community design centre
Community design centres are places where communities can get affordable technical help to plan and manage their environment. They are the environmental equivalent of health centres and are invaluable for helping local people design and implement environmental projects, particularly in poor communities.
Community design centres are staffed by people with a range of the technical skills needed for environmental management. They are also known as 'community technical aid centres'.
Centres provide services to local voluntary groups ­ and sometimes individuals ­ covering all aspects of environmental management. Services will normally be free unless groups are able to afford to pay for them or fees can be built into capital project bids.
Centres will normally be independent charitable agencies funded by governments, local authorities, universities, charities or private sponsors. Sometimes they are controlled by the groups to whom they provide services. Independent consultants may also provide the same service, subsidised by other work.
Photocredits
top: Setagaya Community Design Centre, Tokyo, Japan, 1995, Nick Wates.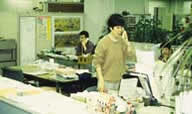 Technical expertise
A community-based nerve centre providing skills and experience on environmental management.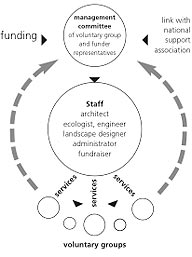 Organisational chart
For a community design centre managed by a committee of representatives of groups that use it and funders.
Tips
Securing funding is a constant headache. Centres are most likely to be sustainable if they carry out fee earning work as well as providing free services.
Costs
Dependent on the number of paid staff and cost of premises. For instance a well equipped centre with 5 full-time technical staff could cost US$200,000 per annum. A centre run by volunteers or secondees using free accommodation could cost very little.
Sample advertising leaflet
Community design centre services
checklist
Customise to satisfy local needs.
Action planning
Art and graphics
Community arts
Competition management
Construction work supervision
Design of buildings and landscape
Employment generation
Feasibility studies; buildings and landscape
Fundraising
Maintenance of buildings and landscape
Organisation formation and development
Planning advice and advocacy
Plant nursery development and maintenance
Property management and development
Rectifying building defects
Strategic planning
Training in environmental management and design
...............................
Inspiration
"What makes the community architect different from the traditional architect is that he's available, he's there ­ seven days a week, twenty-four hours a day to feel the vibration and pulse of the community. The architect's presence on site is essential. That very presence is wealth ­ not just for the architect but for the whole community."
Rod Hackney, Community architect, Architects Journal, 20 February 1985