Community Planning: Methods
Reconaissance trip
description
more detail
more pictures
Reconnaissance trips involve direct inspection of the area being considered by mixed teams of local people and technical experts. They are used to familiarise everyone with the physical environment and key issues at the start of many community planning processes and to review progress at intervals.
A route is carefully planned to include key local features and issues. The route may be walked or toured by bus, boat or other forms of transport. It may include visits to buildings or facilities.
The trip is undertaken by a mixed group of local people and technical experts. Usually a team leader will direct the group and determine the pace.
The group make notes, sketches, take photos and talk informally to people in their own setting. They may check existing plans for accuracy.
At the end of the trip a debriefing is held, and the notes and other materials compiled into a form useful to the next stage of the planning process.
Photocredits
top: Calvay Coop, Glasgow, UK, 1995, Nick Wates.
middle: Wakefield, UK, 1997, Nick Wates.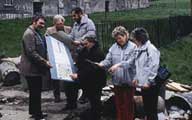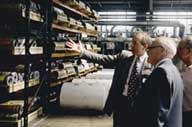 Looking around
Exploring and discussing a site proposed for development and a factory in a proposed conservation area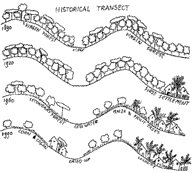 Historical community profile
Diagram resulting from a transect walk showing the evolution of the landscape over the last century.
Tips
Where little information exists, the route can be planned with a view to producing a specific 'transect' diagram or map (see the Historical community profile diagram).


Groups of more than 15 can be unwieldy. Split into smaller groups, perhaps taking different routes and comparing notes afterwards.


Viewing from a hill or high tower is particularly useful. If funds allow, a trip in a helicopter or light aircraft can be worthwhile.


Good opportunity for engaging with media, especially TV.
Costs
Main costs: Transport; organiser's time.
Reconnaissance trip timetable
Sample for a complex trip lasting most of a day with advance planning.
Briefings. By a number of key parties
(in a hall or meeting room).
Bus. Tour of wider area. Commentary by local residents and planners. Stops at high viewing point and key buildings and sites.
Lunch. In a local bar with business people.
Walk. Around central area. Semi-structured interviews with traders. Detailed checking of land use plan.
Tea. At a community centre with local residents. Discussion.
Visit. To arts centre. Viewing of local crafts exhibition. Discussion with artists.
Team meeting. Debriefing and review.
Transect walk format
For a simple walk where little information exists and with little advance planning.
Select people. Decide who will do the walk. Ensure a cross-section of interests.
Decide route and issues. Plan a route which covers the issues under consideration (eg land use changes, development pressures, hazards).
Walk. Walk the route making sketches, taking notes, holding informal interviews, taking photos.
Construct profile. Compile all notes and sketches. Prepare a profile in map or diagram form.
Display. Use profile as a basis for consultation and planning.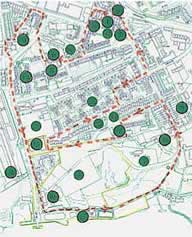 Tour of neighbourhood
Well planned route map with important features marked . Viewing from the air, with the media and on the ground (right).
Photocredits
above: Mount Wise, Plymouth, U
right top: Pittsburg, USA, 1988, John Thompson & Partners
right middle: Poundbury, UK, 1989, Nick Wates
right bottom: Panay Island, Philippines, 1995, Nick Hall