Community Planning: Methods
Environment shop
Local environment shops provide a permanent way to disseminate information and create dialogue. They can be independent outfits or part of a local regeneration agency or community centre.
Ideally, a shop premises in a prominent location with a large window area is chosen, perhaps with offices behind or above. Alternatively, an open air stall or spare space in a building is used.
The shop combines the sale of useful material on environmental improvement with displays and information on local initiatives and projects.
The shop provides a first port of call for local people on how they can improve their environment, and perhaps a public face and reception area for a local regeneration agency or community centre as well.
Photocredits
New town, Edinburgh, 1996
Edinburgh World Heritage Trust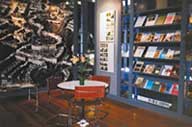 Shop interior
Bird's eye view photo of neighbourhood; display boards on local projects; publications for loan or sale; somewhere to sit. (Not all shops need to be as smart and tidy as this one.)
Tips
Setting up can take time and be complicated but, once established, shops can easily be manned by volunteers<. Start with a small range of stock and build up slowly.


Once up and running, shop material can easily be taken out to local festivals, markets and conferences.


If 'Environment shop' is not the right name for your area try 'Regeneration shop', 'Conservation shop', etc
Costs
Main need is for capital to purchase stock and display fittings. 'Sale or return' terms can be arranged for many items but requires more administration. Don't expect environment shops to make large profits although they can bring in useful income. Their value is as a local resource and in helping an agency get its act together (by putting it on show). If well organised they can ultimately relieve pressure on agency staff by allowing people to help themselves.
Benefits of shops
Addition to local trading environment.
Helps agencies to become user friendly by displaying what they can offer.
Helps people to help themself rather than be dependent on development workers.
Provides outlet for local publishers.
Raises profile of local environmental issues and projects.
Source of revenue for community development organisations (long-term).
Sample promotional leaflet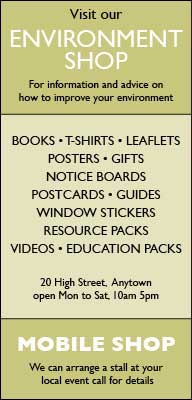 Environment shop stock checklist
Books, pamphlets, videos, manuals, postcards, models, T-shirts relating to:
Building ­ how-to-do-it information on local vernacular building and architecture.
General merchandise ­ to attract people in (eg environmental T-shirts, local crafts).
Local interest ­ items on past, present and future of local environment.
Regeneration generally ­ how-to-do-it material on community regeneration.
Visitor information ­ items specifically for visitors to the area.
................................................................................

Environment shop features
checklist
Bird's-eye view photograph of local area (very useful for discussing issues and always a popular attraction, especially if lit up at night and visible from the street).
Community noticeboard for job ads, competitions, events.
Magazine rack for periodicals.
Model of local area and developments.
Project information board for info on local regeneration projects.
Reception desk for info, access to project, purchasing items.
Reference library for items not for sale.
Seating area for reading and chatting.
Window display promoting merchandise.
Window noticeboard with constantly changing posters on local activities.
...........................................................................
Thanks: Edinburgh World Heritage Trust; Hastings Urban Conservation Project