Community Planning: Methods
Choice catalogues
Choice catalogues provide a way to make design choices within a predetermined structure. They are particularly useful for helping people understand the range of options available and provide a way for making choices where large numbers of people are involved.
Choice catalogues can be used to make design choices at a range of levels; from housing layouts to sanitary fittings.
Options available are worked out by the experts in consultation with a small group of residents.
The options are presented in the form of a simple menu made as visual as possible, using photographs or simple sketches. Choices can be costed using a simple points system if necessary.
People make choices based on the catalogue. This may be done individually or in groups using workshop procedures.
Photocredits
Houses in West Cork, Ireland, 1987, Nick Wates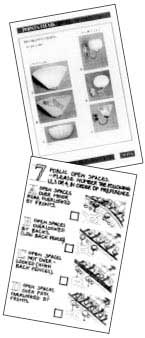 Fixtures and fittings options
Catalogues used by future occupants of a large housing development. Standard choices can be made which have no real cost effect. Residents can choose up to 400 points-worth of other items.
Tips
Makes it possible to give residents of large housing developments individual choice, particularly using computers to log people's selections.


Can be used as a way of generally finding out people¹s attitudes to design issues as well as for making specific selection.
Costs
Dependant on scale of consultation. Main costs: graphics; printing; distribution. If well managed and planned at an early stage, providing choice on large housing schemes need not add to overall capital costs. Indeed savings can be made by avoiding the provision of items that some people do not want.
Sample catalogues
House image options
Choice menu format for use by future residents of a housing scheme in a group. Useful for briefing an architect. Images are selected which reflect locally available options.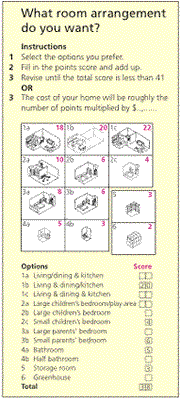 Room layout options
Choice menu for selecting alternative room layouts.
Uses for choice menus
checklist
Bathroom fittings
Front entrance
House image
House type
Light fittings
Room layout
Security equipment
Thanks: Bill Halsall, Henry Sanoff