Community Planning: Methods
Urban design studio
Urban design studios are special units attached to a university or other educational establishment which undertake environmental project work, usually in the immediate locality. They can provide both a valuable educational experience for students and an important resource for local communities.
Urban design studios are set up by an educational establishment, usually at a school of architecture or planning. They will normally be independent units.
The studios have access to all the resources of the establishment; staff, students, researchers, facilities and equipment.
Relationships will be built up with local agencies and community organisations and a variety of project work will be undertaken.
Once established, the studios will start advertising their services and take on consultancy work.
Photocredits
Yale University, USA,1996, Nick Wates.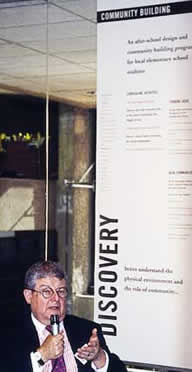 Academic rigour
Combining theory and practice
Academic resources
Students, academics and community members use a school of architecture to debate and solve real local planning issues. Strange though it may seem, this is not a normal occurrence in most architecture schools..
Tips
Independence is essential to overcome the incompatibility of curriculum and real project timetables. Academics and administrators sometimes find such units threatening because students often enjoy the work more than academic studies. Also, live projects generate their own momentum and are hard to dovetail into predetermined time slots. Studios rarely survive unless given enough time to build up a reputation, so making it possible to attract funding for projects and become self-sufficient.


Core staff are needed to maintain momentum of projects during school vacations and other times when students are unavailable.


Studios may work best if student involvement is voluntary.
Costs
Main costs are staff, travel and equipment. Initially funded as part of architecture school. Later, can secure consultancy fees.
Urban design studio typical projects
checklist
Activities which can be educational and easily carried out by an
education institution.
Community planning events
Organisation of community planning forums, design days, planning days, planning weekends and task forces.


Design guides
Research and production of guides for local areas.


Design proposals
Preparing design ideas for specific sites or a masterplan for a whole area.


Model-making
Making models of buildings or neighbourhoods.


Surveys
Assisting communities with surveys and analysis of community needs.


Visualisation
Assisting communities with visual aids including computer imaging.
Inspiration
"It allowed me to apply things I learned in school in a no-longer fictitious environment. Itıs not the community being treated as a laboratory for students to exercise their creative will. Both sides are getting something out of it."
J B Clancy, student Yale Urban Design Workshop
,
New York Times
, 19 November 1995.
"Students are increasingly interested in what it means to be a participant in the public realm. The idea of a citizen architect is back."
Alan Plattus, Director Yale Urban Design Workshop
,
New York Times
, 19 November 1995.
Thanks: Ball State University. Yale Urban Design Workshop