Community Planning: Methods
Ideas competition
Ideas competitions are a good way of stimulating creative thinking and generating interest and momentum. They can be designed to allow everyone a chance to put forward their ideas or be just for professionals.
Ideas competitions are normally held at the start of the development process or when there is opposition to a proposed scheme. They can be simple and immediate or highly complex.
A brief is produced, clearly setting out the task, entry format and deadline, judging procedure, eligibility and relevant background. The task can be to produce general ideas for improving an area or proposals for a specific site, building or problem.
Judging can done by a panel or through using a public voting system. Alternatively different organisations can make separate awards.
Winning entries are widely publicised and published to secure momentum for implementation.
Photocredits
George Street gap site, Hastings, UK,, 1989, Nick Wates.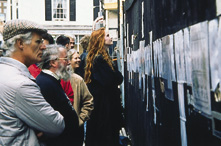 Judging in public, by the public, on site
Passers-by use sticky dots to register their preferences for proposals for a derelict site which are pinned up on the site hoarding.



Standard format
Asking entrants to draw their proposals on prepared bird's eye view site outlines can help people make comparisons but may restrict creativity.
Tips
Getting the public to judge entries encourages people to present better and provides credibility for the winning entries. If you have a judging panel, make sure it is not dominated by professionals.


Specify a format which is accessible to non-professionals and easy to store and copy, eg A4 or A3 maximum. Models or large panels are good for exhibitions but difficult to keep, so photograph them properly. Think about publication from the outset.
Costs
Simple competitions for local sites can be organised very simply and cheaply. High profile competitions will involve considerable time and expense. Main costs: Administration; publicity; prizes; publishing end results. Plenty of scope for sponsorship.
Simple public judging rules
Register at the desk and get your sticky dots.
Each person has three votes in each age category.


red = first choice (3 points)


yellow = second choice (2 points)


green = third choice (1 point)

Stick your dots on the entries.

The entries with the most points by 7pm win.
Prizes to be presented by the Mayor at 7.30pm
Two-stage competition format
Sample timetable for a fairly elaborate 2-stage competition combining an open competition for the public with a closed competition for professional teams.
Jan Preparation
Formation of co-ordinating body. Planning.
Mar Printing
Brief and publicity material.
April Launch
Widespread publicity. Detailed brief and conditions sent to those who respond.


July Stage 1 deadline
Stage 1 open to all with separate categories for professionals as well as for children.



AugPublic exhibition
Judging by public or panel. Small prizes.

Sept Stage 2 announced
Limited number of winning entrants provided with a budget to develop their schemes further.



NovStage 2 deadline
Dec Public exhibition
Judging by public or panel. Winners announced.

MayPublication
Winning entries published.
Sample promotional leaflet

Open ideas competition