Community Planning: Methods
Door Knocking
Door knocking is a basic, and often overlooked, way for beginning to build up a picture of the property, activities and people in an area prior to developing an engagement strategy for a planning initiative. Particularly useful for consultants or developers unfamiliar with the area.
A simple questionnaire is produced together with an introductory letter explaining who you are and why you are conducting the exercise.
Doors to be knocked on are identified on a map. This may be all properties within a certain boundary or a sample selection of properties.
Door knocking team members knock on doors and conduct semi structured interview with occupant if convenient. If not, or if nobody answers the door, the introductory letter is left together with a copy of the questionnaire.
A report on the results is produced and used to decide on the next stage which might be a more rigorous survey or a community planning event of some kind. some kind.
Photocredits
Berkshire, UK, 2010, Nick Wates.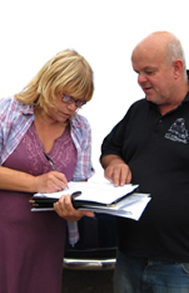 Direct engagement
Semi structured interview being conducted with a local businessman.
Tips
Let local politicians and community engagement officers know what you are doing in advance to avoid them jumping to the wrong conclusions.


Get anyone who is likely to be working on the project in the future to assist as it will be an invaluable experience for them.


If you want to use the results as statistical evidence of local views, comprehensive coverage or a carefully defined sample is essential. Otherwise attempt to cover a range of property types and locations and do not attempt to claim that the results have statistical significance.


You may need public liability insurance (not expensive), and Criminal Record Bureau (CRB) clearance if going into schools. Check requirements locally.
Costs
Can be very time consuming both doing door knocking and analysing the results. Largely proportional to numbers talked to.
Sample doorknocking letter
From a land owner or developer to local residents. A similar version could be drafted for local businesses.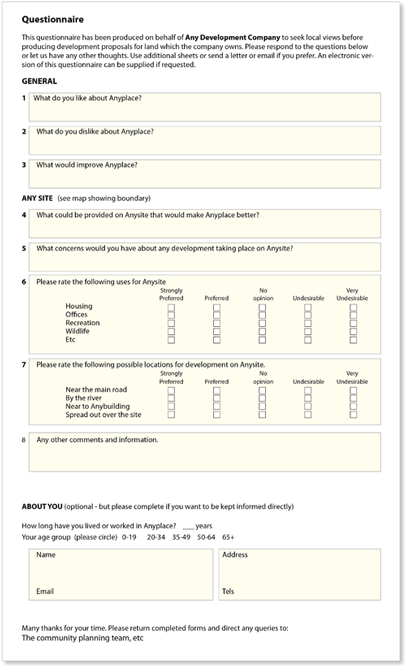 Sample doorknocking questionnaire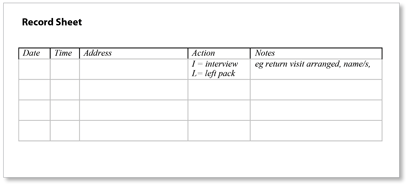 Sample doorknocking record sheet
Thanks: Jane Freund, Roland Karthaus, Ian Pankhurst and Pat Willoughby for inspiration. Funded by the Building Community Consortium.