Community Planning: Methods
Design fest
Design fests produce creative concepts for the future of an area by getting multidisciplinary design teams to develop and present their ideas in public. They are a good way to stimulate debate and develop imaginative solutions, particularly on controversial issues.
Organisers decide on a theme that needs exploring and determine a brief. A specific, challenging site will normally be selected to focus creativity towards practical solutions.

Multidisciplinary design teams are selected and briefed. The teams are likely to comprise architecture or planning students as well as practising professionals from a range of disciplines.

The teams hold an intensive design workshop (or 'charrette') in public, coinciding with a public exhibition on the theme. The public are encouraged to respond to the theme and the team's ideas as they emerge and to develop their own.
A high profile public symposium is held immediately after the workshops when the ideas generated are presented and debated by a prominent panel.
The results are published and widely distributed.

Photocredits
Hong Kong, 1998, Jack Sidener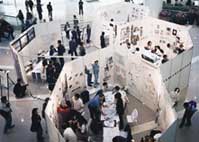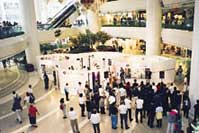 Designing in public
Multidisciplinary design teams develop ideas in three small cubicles erected inside a large shopping centre. Members of the public view the teams at work from the balconies above, explore exhibition material and interactive displays pinned to the outside of the screens, are interviewed by team members and develop and pin up their own ideas in a fourth cubicle (shown left above). The teams also have the use of a private resource room (not shown) with photocopying and other facilities. They are told to produce simple, straightforward and graphic presentation material to capture the attention of the viewing public on the balcony. The workshop may last for one or several days. Then, slides are made of the drawings and all the ideas emerging are presented and debated at a public symposium.
Tips
Ideally suited to being organised by university architecture and planning schools. Students learn a lot by taking part in teams, organising exhibition material, doing surveys of the public and helping the public to engage in design issues.
Costs
A well organised, high profile design fest could cost US$40,000. But there is a great deal of scope for securing sponsorship.
Sample poster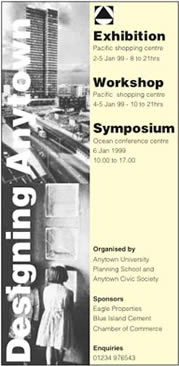 Key ingredients: Theme; logo; visual image; details of activities; organisers, sponsors; further information.
Inspiration
"As the Saturday night deadline drew near, the pace was frenzied. Some drawings were coloured by up to six people at a time, models were being glued together, slides being taken for presentation at the Sunday symposium."
Designing Hong Kong report poster, 1998.
Thanks: Jack Sidener