Community Planning: About this site
About this site
intro
structure
funding
copyright
credits
champions
endorsements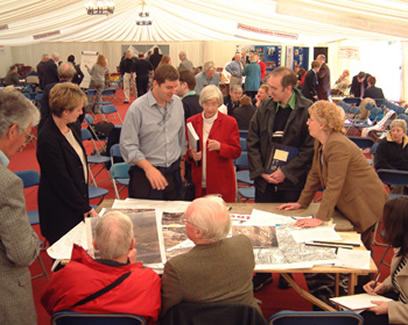 Community Planning Event in Pontefract, Yorkshire, UK, 2003
The five-day event was organised by Castleford and Pontefract Renaissance to generate a vision for the five towns of Castleford, Featherstone, Knottingly, Normanton and Pontefract.
Growing numbers of residents are getting involved with professionals in shaping their local environment. This website is an essential starting point for everyone concerned. It provides easily accessible how-to-do-it best practice information of international scope and relevance.

How the site is structured and how to use it.

The main sections of the site are accessed from the menu down the left hand side of the screen. Material within sections is listed alphabetically wherever possible.

About this Site
Explains what makes the site work and who is involved.

About Community Planning
Provides general introductory material about the subject and how to get started.

Principles
Sets out universal principles which tend to apply to any community planning activity.

Methods
A Methods A-Z provides summaries of all the main methods for helping people get involved in physical planning and design, with links to further information on this and other sites. Featured methods covers in detail a selection of the most effective methods. The purpose and main features of each is summarised on the opening page with checklists, sample formats, costs and photographs in separate tabs. Further information links are provided in a scroll down menu at the bottom.

Scenarios
Shows how a number of methods can be combined in an overall strategy. A range of scenarios cover some common development situations. The opening page provides a summary of the scenario with a detailed activity sequence and timeline in a second tab. Further and related information can be accessed from menus at the bottom of the page.

Case Studies
Examples of community planning in action. Real people, real places, real results. Contains a selection of detailed case studies and links to case study collections elsewhere on the internet.

Policy & Law
A summary of policy and legislation on community planning in different countries and in international agreements.

Toolbox
Contains checklists, forms and timetables which may save you time. They can be viewed on screen and downloaded so they can be adapted for your own use.

Consultants A-Z
Private consultants who can provide support.

Contacts A-Z
Organisations providing further information and support.

Funding A-Z
Funding mechanisms and sources of funding.

Glossary A-Z
Explains common terms and provides cross-references. This can very productively be used as an index to the site and to the subject.

Oportunities A-Z
Things communities can do to make neighbourhoods better to live in and more sustainable (particularly, produce less carbon emissions): projects; programmes; initiatives. Intended as a checklist to stimulate creative planning. Entries are brief summaries of actions which communities can take and provide links to more detailed information or examples.

Projects A-Z
Listing of real community planning projects and events with links to further information.

Publications and film A-Z
Useful publications and films. Includes historical classics and up to date guidance.

Training A-Z
Programmes of training available.

Websites A-Z
Some of the most useful websites.

Building Community
Direct access to the Supporting Communities and Neighbourhoods in Planning, England, programme.

Special features
A section devoted to special coverage of issues of current and historical interest. Includes access to features on Neighbourhood Planning and Low Carbon Communities in England.

Videos and Slide Shows
View some of the best community planning videos from YouTube and slide shows from Slideshare.

What's new
Find out about the latest site developments.

Contact us
How to get in touch

Marketing
Download logos and posters and see web statistics summaries.

Feedback
Makes it easy for you to help us build and improve this website. There are also feedback templates in many sections of the website for providing specific data.

And don't forget the Site search facility in the top right hand corner. Type in a word or phrase and see what comes up.




Site funding policy
Free access
It has been decided to make all the material on the site available to all internet users free of charge. There are no fees for accessing or downloading anything from this site. This means that the considerable costs of maintaining and developing the site have to be met in other ways.
Core sponsors
Whenever possible, additions and amendments to the site will be made using development funding from Core Sponsors (see Credits and Thanks). In exchange for development funding communityplanning.net can offer:
Editorial partnership in determining new content
Prominent acknowledgement on the home page, in Credits and Thanks and at the foot of relevant pages
Preferential rates for display material in the third column
Content sponsors
Organisations and individuals may sponsor specific pages or additions to the site. Communityplanning.net can offer:
Consultation on new content before it goes live
Appropriate acknowledgement in Credits and Thanks and at the foot of relevant pages
Preferential rates for display material in the third column
A price guide is provided below for standard items but a written quotation will be provided and approval secured before work commences.
Advertising
The third column provides exciting and varied opportunities for display advertisements incorporating graphics, photographs, film and click-throughs to other websites, within a structured design format. Communityplanning.net can offer:
a full graphic design service for advertisers or the supply of style sheets, rates and traffic data
Appropriate acknowledgement in Credits and Thanks
Special introductory rates

For more details please see
the advertising tab on the Marketing page.
Content Listing fees
Where funding from other sources is not available, those requesting amendments or additions will be charged a fee to cover the cost of the work. A written quotation will be provided and approval secured before work commences.
Price guide:

Item for

£ price

Principles

120.00

Methods - listing

90.00

Methods - featured

900.00

Scenarios

900.00

Case studies - on site

1500.00

Case studies - on other sites

90.00

Policy

600.00

Toolbox

600.00

Consultants

60.00

Contacts

60.00

Funding

120.00

Glossary

30.00

Opportunities

60.00

Projects

60.00

Publications and films

60.00

Training

60.00

Website

30.00

Videos and slideshows

60.00


Prices applicable for 2015

This chart provides standard prices for taking material from the submission forms and having it live on site (for a minimum of two years). This includes:

Communication with the submitter;
Editing;
Graphic and web design;
Making amendments.

Prices may be adjusted depending on the complexity and quality of the material.

Quotations for compiling special features or other material not listed above can be provided on request.
Copyright policy
The copyright on the compilation that comprises the Community Planning Website is held by Nick Wates or Nick Wates Associates. The copyright on all text and photographs on this site is held by Nick Wates or Nick Wates Associates except where specifically stated or as set out below.


It is the intention during 2007/08 to create an independent body comprising stakeholder interests which will also hold rights to the material in the long term.


Material submitted is assumed to be copyright free except where specifically stated.


Nick Wates and the new independent body mentioned above shall have the right to use material submitted on The Community Planning Website and in any related publicity or publication unless otherwise agreed.


Those submitting material will also have rights to use the material they submitted as edited on the website for their own purposes.


Photograph credits and copyright information are (or will be) provided alongside each photograph on the site. Photographs not otherwise identified are copyright Nick Wates. Please notify us of any errors.


It is assumed that those submitting photographs have cleared all relevant permissions or have supplied information about copyright.


Most of the photographs on this site are of people taking part in public or semi-public community planning activities of various kinds. Those featured were generally aware that photographs were being taken and in some cases have specifically given their permission. But if anyone is unhappy with appearing in a photo on this site, please send an email identifying the photo and yourself. The photo will then be cropped or removed.

Website credits and thanks
Core team


Development and Technical Consultants, 2008:
WAVE, UK
www.wave.coop

Development and Technical Consultants, 2008:
Lathyrus Limited, UK
lathyrus.net
Sponsorship and Marketing support:
Myvenues Limited, UK
www.myvenues.co.uk
Ebusiness support:
Ebiz Centre, Hastings, UK
Database implementation 2005-06:
Chris Allen, Ravensbourne College of Design and Communication

Initial site construction, 2001
Intermediate Technology Development Group -
www.itdg.org

Initial site construction, 2001
Resource for Urban Design Information
www.rudi.net
Initial site construction assistance, 2001
Denis Brunel and Anthony Thomas, Oxford Brookes University
Initial site construction Steering Group, 2001
Ilias Dirie, Nick Hall, Lucky Lowe, Michael Mutter, Ian Roberts, Theo Schilderman
Steering group members 2008
Steering group members 2008

Harriet Baldwin,
English Partnerships
Ruth Marshall:
Planning Directorate, CLG
Rosie Milner:
Empowerment Division, CLG
Mike Salmon:
Housing Division, CLG
Louise Waring,
Planning Directorate, CLG

Content sponsors

Department for International Development
www.dfid.gov.uk
Making Planning Work special feature, 2006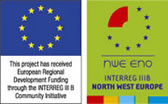 European Union Interreg IIIB Funding Programme
APaNGO project special feature, 2007


Royal Town Planning Institute. UK
www.rtpi.org.uk
Case studies and Making Planning Work special feature, 2006

Town & Country Planning Association
www.tcpa.org.uk/
APaNGO project special feature, 2007
Advertisers

ADVERTISERS

(to be added in due course)

Handbook credits and thanks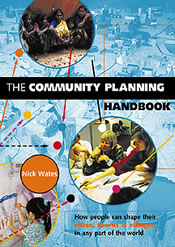 The Community Planning Handbook
How people can shape their cities, towns and villages in any part of the world.
Compiler and Editor: Nick Wates.

Design and production: Jeremy Brook, Graphic Ideas, Hastings.
First published in the UK in 2000 by
Earthscan Publications Ltd.
Email: earthinfo@earthscan.co.uk
http://www.earthscan.co.uk
In association with:
The Urban Design Group;
The Prince¹s Foundation;
South Bank University, London.
With the generous support of:
Department of the Environment, Transport and the Regions, England;
Department for International Development, UK;
European Commission Humanitarian Office.
Advisory Group: Roger Bellers, John Billingham, Roger Evans, Nick Hall, Birgit Laue, Arnold Linden, Jenneth Parker, David Lunts, Michael Mutter, Renate Ruether-Greaves, Jon Rowland, Ros Tennyson, John Thompson, John F C Turner.
Copyright © Nick Wates, 2000.
All rights reserved.
ISBN: 1 85383 654 0.

book credits
This handbook is the product of three related initiatives:
Tools for Community Design Programme
Supported by The Prince¹s Foundation (and formerly The Prince of Wales¹s Institute of Architecture), this initiative promotes good practice through the production of high quality, uiversally applicable, how-to-do-it information using participatory editing techniques.
Urban Design Group Public Participation Programme (UDGPPP)
Funded by the Department of the Environment, Transport and the Regions (DETR) for England, this action research programme assisted and evaluated 12 public participation events and 10 seminars in England during 1996 and 1997 to establish good practice principles.
Action Planning in Developing Countries Research Project
Funded by the UK¹s Department for International Development (DFID), this project examined practice in countries in many parts of the world during 1998 and 1999 to establish methods most appropriate for developing
countries.
The book has benefited from close collaboration with other related initiatives. These include:
Community-based Disaster Mitigation
A research project funded by the European Community and based at London¹s South Bank University.
Tools for Community Regeneration
A project to develop a database of community regeneration based at Hastings Trust, UK. contributors listing

Many people helped with the work. Special thanks are due to all those who sent in material, participated in editing workshops, provided inspiration or commented on drafts. They include:
Jon Aldenton
Anthea Atha
Debbie Bartlett
Stephen Batey
Roger Bellers
Dianah Bennett
John Billingham
Jeff Bishop
Peter Blake
Jeremy Brook
Charles Campion
Jeremy Caulton
June Cannon
Emma Collier
Tony Costello
Robert Cowan
Simon Croxton
Robin Deane
James Derounian
Stephanie Donaldson
Roger Evans
Yanaka Gakko
Flora Gathorne-Hardy
Joanna Gent
Christine Goldschmidt
Suzanne Gorman
Andrew Goldring
Peter Greenhalf
Virginia Griffin
Felicity Gu
Susan Guy
Rod Hackney
Nick Hall
Nabeel Hamdi
Brian Hanson
Lorraine Hart
Yasuyoshi Hayashi
Michael Hebbert
Mandy Heslop
David Hughes
Paul Jenkins
Richard John
Sam Jones-Hill
Ripin Kalra
Joan Kean
Sonia Khan
Sally King
Charles Knevitt
Anne Kramer
Alison Lammas
Birgit Laue
Akan Leander
David Lewis
Julie Lewis

Arnold Linden
Melanie Louise
David Lunts
Caroline Lwin
Frances MacDermott
Lee Mallett
Tony Meadows
Jo McCaren
Nim Moorthy
Babar Mumtaz
Michael Mutter
Mary Myers
Jenneth Parker
Michael Parkes
Geoffrey Payne
Alan Plattus
Jules Pretty
Richard Pullen
Debbie Radcliffe
Renate Ruether-Greaves
Peter Richards
Alex Rook
Jon Rowland
David Sanderson
Henry Sanoff
Yoshimitsu Shiozaki
Romy Shovelton
Jack Sidener
Jonathan Sinclair Wilson
Miriam Solly
Steve Smith
Ian Taylor
Ros Tennyson
Simon Thomas
John Thompson
Stephen Thwaites
Catherine Tranmer
Susie Turnbull
John F C Turner
John Twigg
Pat Wakely
Perry Walker
Diane Warburton
Colin Ward
Margaret Wilkinson
Diane Warburton
Mae Wates
Max Wates
Dick Watson
Nicholas Wilkinson
Adele Wilter
Julie Witham
John Worthington
Charles Zucker
Organisations which have provided assistance include:
Architecture Foundation
Ball State University
Building Design
Centre for Community Visions
Centre for Disaster Preparedness
Countryside Commission
CLAWS 2
Chinese University of Hong Kong
Edinburgh World Heritage Trust
Free Form Arts Trust
Hackney Building Exploratory
Hertfordshire County Council
Neighbourhood Initiatives Foundation
Planning Aid UK
RUDI
Roger Evans Associates
Shoevegas
Apologies for any omissions.

book evolution
The production of this book has been guided by the belief that participatory editing and testing of good practice guidance is one of the most effective ways of achieving widespread improvement of practice and knowledge transfer.
The process adopted has been as follows:
Title and format
Overall concept established by the author, designer and supporting organisations.
Publicity
Call for information leaflet distributed widely.
Pilot projects, seminars and research
Monitoring and evaluation of pilot projects, participation in seminars and workshops, desk research.
Sample material published
Ten methods and four scenarios published in Urban Design Quarterly, July 1998. Over 1,000 copies distributed. Also available on Urban Design Group web site.
Editing workshops
Held at the South Bank University in London, November 1998, and in the Philippines, January 1999.
Consultation draft
Circulated to over 60 practitioners. Over 35 responses received.
Final draft
Circulated to main supporting organisations and advisors.
Feedback received at each stage has been invaluable in developing the book, although the editor takes full responsibility for all views expressed.
It is planned to continue the process with further editions, translations and adaptations tailored to specific local contexts.
Feedback from this website of course plays an important role.

Site champions
Communityplanning.net champions promote the site in their own specialist fields or localities and advise the editorial team on improvements needed.

If you would like to be a Communityplanning.net champion please email the site editor.

James Derounian
Principal Lecturer in Community Development and Local Governance, University of Gloucestershire, UK
jderounian@glos.ac.uk


Malgorzata Hanzl
Urban planner and lecturer,
Technical University of Lodz, Poland
Malgorzata's blog
www.mojemiasto.org.pl


Anna Janson
Acting Strategic Planner – Communities
Greater Shepparton City Council, Australia
www.greatershepparton.com.au
anna.janson@shepparton.vic.gov.au


Paul Jenkins (tbc)
Coordinator, ScotMARK,
Edinburgh College of Art, Scotland


Kelvin MacDonald
strategic policy consultant, England
www.kelvinmacdonald.co.uk


Ian Munt
urban governance consultant, Scotland
Jules Pretty (tbc)
University of East Anglia, UK


Wendy Sarkissian (tbc)
practitioner and author, Australia
www.sarksissian.com.au


Rynd Smith (tbc)
Director of Policy and Communications,
Royal Town Planning Institute, UK
www.rtpi.org.uk


John Thompson
Chairman, John Thompson & Partners;
Chairman, Academy of Urbanism, UK
www.jtp.co.uk
www.academyofurbanism.org.uk


Andreas von Zadow
Von Zadow Gmbh, Germany
www.vonzadow.de


Louise Waring
Planning Directorate,
Communities and Local Government
www.communities.gov.uk
louise.waring@communities.gsi.gov.uk


Jeremy Wates
Secretary General
European Environmental Bureau, Brussels
www.eeb.org


Rob West (tbc)
Commissioning Editor, Earthscan
www.earthscan.co.uk
… 'a superb source of reference and inspiration.'

Paul Mahony, Creative Director, Countryscape, Manchester, UK, email 8 December 2011
'While researching some information for an infographic poster on community planning, I found your website. It's absolutely brilliant….'

Ric Stephens, Principal, Stephens Planning & Design LLC, USA, email 27 July 2011
'I do not have words to thank you and all the staff that have made possible this website. I am helping in an advisory capacity the Citizen Comptroller for Mexico City (Dirección General de Contralorías Ciudadanas, Contraloría General del Distrito Federal) and your site has proven invaluable to do my job. Apart from its contents, its design for using it I find excellent. Thank you all for your effort.'

Ernesto Tapia, Mexico, email, 13 April 2011
'I think the community planning website is a very comprehensive overview of community planning resources, with many clear paths to discovering useful resources.'
Stefan Pasti, Interfaith Peacebuilding and Community Revitalisation Initiative (IPCR), USA, email 28 November 2010
'…it really is a great resource.'
Stephen Gallagher, The Academy of Urbanism, email 11 August 2010
'I am glad to discover this educative and awesome community planning site. As a graduate of geography and planning from Nigeria, I feel homely belonging to this great planning community.'

Abiodun Akande, Nigeria, feedback 28 May 2009
'Great site, especially for planning students such as myself.'

Daniel McCafferty, Dundee University, Scotland, feedback, 19 May 2009
'Congratulations on the community planning site - I've found it very useful!'

Matt Day, Coordinator, Somerset Market Towns Forum, email 11 February 2009
'I found your community planning website today and I was quite excited. It's a very useful resource for me as I am currently planning a consultation event and it helped refresh my urban participatory planning knowledge…. Please do keep up the good work.'

Yemisi Bakare, Sustainable Development & Communities Coordinator, Commonside Trust, UK, email, 28 January 2009
'Congratulations for a fantastic and informative website. I am a second year Interior Design student at university currently working on a project about community architecture. Your website has been tremendous help. Thank you.'

Viv McKeown, University of Teesside, UK, feedback, 7 January 2009
"This is a really interesting site"
Rosie Clarke, Engaging Places, www.engagingplaces.org.uk, Brighton, UK, feedback 5 January 2009
'…this is a really great resource.'

Ruth Marshall, Planning Directorate, Department of Communities and Local Government, email 5 January 2009
'We love your site.'

Jacqui C. Hill, Secretary, Lehigh Acres Community Planning Corporation, USA, email 11 November 2008
'I know that this is a lot to ask, but is it possible to make your website available in French and Spanish? (I would ask for Arabic, too, but I know that is going too far, if I haven't done so already). It's just that the website is brilliant. It would be so valuable for the use of women in developing countries who struggle to empower themselves, start participating, make their needs known, and have a voice to access the resources they need to survive. The International Land Coalition and the Global Land Tool Network web sites can verify this need. Thank you for this wonderful resource.'

Kathryn Devereaux, Knowledge Management Services, feedback 11 October 2008
'… a very useful site'

Sue, Quiet Earth, email 30 July 2008
'…awesome Community Planning website…'

James Wallman, Journalist, email 15 May 2008
'Great site!'

Nicky Church, Greater Nottingham Partnership, UK, feedback 26 March 2008
"The brilliant website communityplanning.net sets out clear advice on a whole range of ways you can get people involved - using everything from models, to photos, to computer maps to show what development could look like. It also gives advice on how to encourage a positive, realistic debate - one where everyone accepts in good faith the purpose and boundaries of discussion. One where people recognise that the purpose of planning is to enable and support the right type of development, not to stop it nor prevaricate endlessly like a modern-day Jarndyce v Jarndyce. And one that gives you something more mature than protestors simply repeating 'no' or developers saying 'like it or lump it'. You've got to have a proper dialogue."
The Rt Hon Hazel Blears MP, Secretary of State for Communities and Local Government, speech titled 'Beauty vs. brutality', 25 March 2008 at The Commission for Architecture and the Built Environment (CABE), London
"The site communityplanning.net sets out a host of great ways to encourage debate - from 'design fests' (specialists spend the day discussing their ideas for a neighbourhood, while the public has an opportunity to walk in, watch and comment) to 'photo surveys' (people bring their own photographs of what they like, or don't like, about their neighbourhood now as a way of starting discussion on what they want to happen to it next) to 'planning for real' (using 3-D models to show residents what development could look like, and giving them a chance to vote on the options).

The Rt Hon Hazel Blears MP, Secretary of State for Communities and Local Government, speech titled 'Five years from now', 19 March 2008 at the Local Government Commission Community Engagement Conference, The Royal Horticultural Halls, London "thanks a mil...found ur website and resources really helpful in planning community development days with communities first young people"
Nikki Cinnamond, Community Project Logistics Co-ordinator, Outlook Community, North Wales, feedback 20 Feb 2008
"It's a wonderful resource."
Susan Seifert, Director, Social Impact of the Arts Project, University of Pennsylvania, USA, email 10 October 2007
"Your site is very valuable."
Gabriele, Aukland, Australia, feedback 26 April 2007
"The website looks impressive and a huge amount of work."
Alex Julyan, artist, UK, email 8 March 2007
"Like the site, it is well organised and easy to negotiate."
Abe Mohsin, Architect, UK, email 8 March 2007 "What a fantastic web site! I will soon be getting involved with my first Planning Aid projects and I know that this web site will be a valuable resource."

Kirstie Walker, Planning Aid, email 22 February 2007
"Visited the site this morning and it's fantastic. Immediately helpful for the … work we've got to pull together and I'll pass it on to the Council and the Community Network who should be championing it."
Alastair Fairley, Hastings Local Strategic Partnership chair, email 7 February 2007
"Congratulations on such a valuable website. We're featuring it in this month's member e-newsletter."

Sharon Clark, National Association of Planning Councils (NAPC), Dallas, Texas, USA, email 1 January 2007
Very useful site!'

Marika Fusser, Planning Aid Wales, UK, Feedback 28 November 2006
'Many thanks for the link to the website...it is a brilliant template and I shall be referring my fellow community group members to it.'

Mark Boyden, Coomhola, West Cork, Ireland, email 24 September 2006
'Your website has some extremely valuable information that we can use in our plan to upgrade a squatter camp on the outskirts of Cape Town.'

Dianne Womersley, The Shaster Foundation for Community Development, Cape Town, South Africa, feedback 28 September 2006
'The Community Planning website is brilliant! I particularly like the expanded glossary and the case studies. The design works very well.'

Robert Cowan, Director, Urban Design Group, London, UK, email 21 September 2006
'Your web site is absolutely amazing.'

Jane Samuels, Removing Unfreedoms Design Associates, Stroud, UK, email 20 September 2006
'Very useful'.

Edward Andersson, People & Knowledge, Involve, London, UK, email 20 September 2006
'Really excellent'

Michael Edwards, The Bartlett School, University College London, UK, email 20 September 2006
'A very useful site which I will be passing on to my planning students!'

Richard Kingston, Lecturer in urban planning & GIS, School of Environment & Development, University of Manchester, UK, email 19 September 2006
'Love your website. Do you send updates or what's new emails to people as I would be interested?'

Yvonne Weeber, Senior Adviser, Ministry for the Environment, New Zealand, email 23 August 2006
'Can I get a print version of this web content? I find it very useful and would like to share it with colleagues in Pune who are active in various civic issues, ranging from parks, parking lots, garbage, gardens, etc.'

Sanskriti Menon, Centre for Environment Education, Pune, India, email 30 April 2005
"I have just gone over this site briefly and it is excellent, a great tool for community and personal planning as well. If the community uses this guide our events could not go wrong. Thanks for doing this."

Beatrice Watson, California, USA, email 1 April 2005'
"Great site--many thanks for your work."

Nora Lester Murad, Beit Hanina, Palestine, email 1 December 2004'I was pleasantly surprised to find your website called www.communityplanning.net. For some years now, the city of Antwerp, Belgium has invested a great deal of effort and resources in actively involving citizens in plans and projects for their neighbourhood.'

Ken Veerman, Antwerp Urban Community Consultation, Antwerp, Belgium, email 14 Oct 2004'I have just gone through your site and found it very beneficial to me. I am currently heading an organization which has a vision of strengthening the indigenous cultures, education of the girl child, assisting those who are infected & affected by AIDS and addressing poverty in some parts of Kenya. This site is just wonderful. I like it.'

Henry Migingo Awat, HUREC, Kenya, email 7 September 2004'I found the web site communityplanning.net a great inspiration.'

Ade Aboaba, Leeds University, Leeds, UK, email 7July 2004
'Excellent site, will be very useful with our forthcoming community strategy process. Hope to dip into in again!'

Cllr Anne Ward, February 2002'I've had a quick browse and it looks excellent - very useful for our area of work.'

Deborah Cassell, Market Towns Team, Countryside Agency, UK, email 5 Nov 200
'Very nice! Congratulations!'

David Sanderson, CIUK, email 19 Oct 2001 'Very impressive! It is very logical to use, looks attractive and is full of useful info/tips. I particularly found the Scenarios section useful.'

Julie Witham, Morpheus Regeneration, London, email 2001 'Congratulations - looks excellent'

David Wilcox, email 2001 'It looks good and I think it works very well.'

Renate Ruether-Greaves, Tools for Community Regeneration, UK, email 2001 'It's excellent news, and about time something like this was available. At first glance, it looks very attractive.'

Brian Hanson, London, email 2001 'What an excellent site - congratulations! Well designed, drop-down windows very useful, easy to navigate.'

Professor Jules Pretty, Centre for Environment and Society and Dept of Biological Sciences University of Essex, email 2001 'Of all the practitioners whose work we use, yours is the best by a long shot!'

Wendy Sarkissian, Sarkissian Associates Planners, Australia, email 2001

---
book endorsements
'A very clear, well organized and extremely useful book for those who are or who ought to be promoting democratic participation in shaping the future of our communities. In addition to prudent principles, a well researched overview of methods and good examples of specific tools, the Scenarios section demonstrates how the various methods described can be mixed and matched to meet the unique circumstances found in any community. With its emphasis on flexibility and adaptation in the face of experience, this is a book that I will recommend to clients and colleagues alike'
J Gary Lawrence, President, Sustainable Strategies & Solutions, Inc, Seattle, Washington, USA
'In the global, cyberspace age, government and business need communities as much as communities need them. Nick Wates' timely book is essential reading for ordinary people and professionals who believe that the opportunities being thrown up by this new balance are there for the taking'
Mark Hepworth,
Director, The Local Futures Group, London, UK
'This is the best practical guide to running a community planning event, and a must for community groups and councils both in the UK and abroad
'


Roger Evans,
Chairman, Urban Design Group, UK
'This publication is a major step towards a better understanding of the processes whereby people can learn from each other in helping to determine better planning for our future built environments. It brings together experience that exists in Britain with international experience from across the globe. The layout brings a new standard of design excellence to the art of communication in this field. I highly recommend it as a practical tool for communities and their activists. It has a truly international perspective.'

Michael Parkes, Expert on Urban Policy to the European Commission,
Directorate General Development, Brussels, Belgium 'The clear and concise copy as well as the very appealing graphic formatting of the material make this an excellent handbook which will be useful to so many different users in so many ways.'

Tony Costello, Professor of Architecture, Ball State University, USA 'A graphically pleasing publication in simple language that will get across effectively to communities, empowering them in the new 'dharma' ­ demand-driven planning and decision making through a participatory process.'

Vinay D. Lall, Director, Society for Development Studies, New Delhi, India 'This is the very book which is so necessary for countries such as Georgia. Everything we did or tried to do intuitively is in this book and is perfectly illustrated.'

Professor Vladimer Vardosanidze, Technical University, Tbilisi, Georgia, email, 13 Oct 2000 'Grassroots planning is now orthodox and Nick Wates' book is an excellent and comprehensive catalogue of how to do it. ...The intended reader appears to be both the experienced professional and the lay resident - a difficult trick to pull off, which books on democratising design rarely achieve, but this one does... I hope to come across lots of well-thumbed copies in libraries, community associations and architects offices.'

Joe Holyoak, Urban Design Quarterly, April 2000


Thanks:
This page is sponsored by
Nick Wates Associates.