Community planning: Resilient Communities
Resilient Communities
Introduction
A guide to help community groups become resilient to the impact of weather and climate change.
Why is resilience to extreme weather important?
Flooding – puts lives at risk and damages homes and businesses.


Warm weather and heat waves – cause illness due to heat and pollution.


Water shortages – restrictions on water use for businesses, gardens and green spaces.


Increase in social inequality - the most vulnerable members of communities are affected most by climate change impacts.


Wider benefits – by making your community more resilient you can also create wider benefits, such as for health, recreation and local business.
This guide describes how communities can make themselves more resilient, the resources available to help them do it and how other communities have made themselves more resilient. The guidance applies universally although the examples are from the UK.
Featured case study video - Stockdalewath, Cumbria:
If you know of other case studies or resources that should be listed here, please let us know using the site's
Feedback Form.
back to top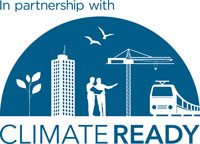 Thanks: This resilient communities section was produced in partnership by the Environment Agency's Climate Ready Support Service.