Community Planning: Housing in the UK
Housing UK
introduction
planning policy
housing policy
resources
suggestions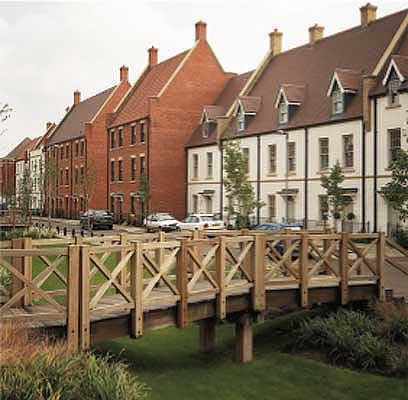 Sustainable new communities
Award winning urban extension with 1,000 new homes masterplanned using a collaborative process involving all stakeholders. See '
Upton Urban Extension'
in Projects AZ. Photocredit: The Prince's Foundation, 2008
Introduction
This section provides links to resources of special relevance to those wanting to help local communities engage in the main housing challenges facing the UK.
These are:
Where and how to build a large amount of new housing to cater for growing demand. An additional 240,000 new homes each year are planned – approximately 2 million by 2016, 3 million by 2020.


How to make new and existing neighbourhoods more sustainable, so reducing energy demands and helping combat climate change.
In this section you will find information on how planning for housing works in the UK and how individuals and communities can get involved. You will also find links to a range of tools and information sources on this website and elsewhere.

Canít find what you want? Suggestions for improvement? Any comments? Please use the Housing UK submission form or see Contact us.
It is important that people are equipped with the evidence about local housing pressures, demand, and supply and to know the processes that shape decisions on housing locally. Information on local housing pressures is available at www.communities.gov.uk/

Much of the material on communityplanning.net will be useful to those concerned with involving local communities in housing. Explore for yourself using the menus on the left.

For those in a hurry, here are some direct links to material most likely to be useful. On this site:

and on other sites:

Do you have anysuggestions on how the Housing UK section could be improved or any specific detail that you think should be included?






Thanks;
This section of the website and much of the material linked from it has been funded by Communities and Local Government as part of an initiative to provide a toolkit on community involvement in housing provision and improvement.