Community Planning: Making Planning Work
Making Planning Work
Casestudy 16
India
Bridging the finance gap at local level for effective community-led solutions in urban development
description
further information
his case illustrates how financial management and budgeting skills are part of the capacity needed to develop creative and sustainable solutions in urban development. Such schemes enable the poor to address their needs and strengthen their position in relation to the other actors involved in urban development.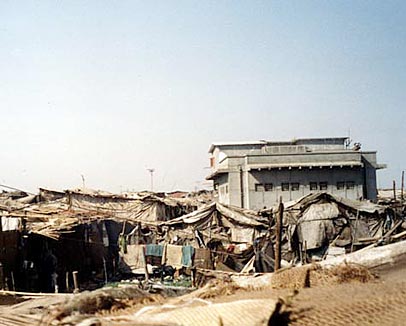 © Patrick Wakely
The Community-Led Infrastructure Finance Facility (CLIFF) began as a pilot project in 2002. It is a donor-funded scheme aimed at providing direct support to representative organizations of the urban poor to help them carry out community-driven initiatives in infrastructure, housing and urban services at city level in conjunction with municipalities and the private sector.
Organizations of the urban poor are developing the capacity to manage slum upgrading, resettlement and infrastructure initiatives. However, there is a chronic lack of medium-term credit available to allow them to launch larger scale projects. Commercial banks dislike lending to organizations that have no form of conventional collateral. Like most city officials, local politicians and developers, they lack confidence in the success of community-led processes.
CLIFF channels official bilateral aid directly to organizations of slum and pavement dwellers, who can draw and manage a large capital fund and use it for a set of projects, which they can develop, implement and manage.
The funds are administered by the Cities Alliance Group on behalf of the two main donors: the UK's Department for International Development (DFID) and the Swedish International Development Cooperation Agency (Sida). The UK NGO Homeless International coordinates CLIFF at the international level and contributes finance from its 'guarantee fund'.
At local level, CLIFF funds are managed by the Indian Alliance, which is composed of four large organizations: the National Slum Dwellers Federation (NSDF), a growing network of around 650,000 poor families spanning over 70 cities; Mahila Milan, a network of women's savings collectives; the support NGO SPARC, and Nirman, a non-profit organization created to be the official implementing agency of CLIFF at the local level in India. CLIFF provides the Alliance with different forms of financial assistance. In particular, it sets a financial mechanism to make a large capital available to the Alliance in the forms of bridging loans on their demand.
The scaling-up process of local community-driven initiatives begins when projects are selected by the NSDF from a pool of initiatives undertaken by local organizations and federations of the urban poor on the basis of a number of criteria agreed upon by the Indian Alliance, Homeless International and technical advisory groups. Once projects are approved, CLIFF provides some capital bridging loans to kick start initiatives while negotiations with formal finance institutions and public officials begin. These projects are selected and implemented as 'flagships' to provide precedent for future scaling-up and pro-poor policy change.
By June 2005, CLIFF capital funds had supported 13 community-led development projects in India, many of which had been initiated by the Alliance in the past, but which were hindered by financial problems. Ten of the projects are based around housing and three around sanitation. These projects enable the Alliance to strategically engage with government and challenge 'business as usual' in terms of planning, municipal procurement and building regulation, so that they better benefit the urban poor. More importantly, the projects allow the Alliance to develop new working partnerships with both government and private sector institutions, in which the resources that different groups bring to the solution are recognized and respected. This is done through the demonstration of effective approaches and practices, which can then be replicated on a larger scale ranging from settlement to city and even national levels.
Because the goal of CLIFF is to produce locally viable solutions that yield scaleable, affordable and deliverable housing and infrastructure to the urban poor, one of the scheme's objectives is to help the Alliance leverage money from other external sources and spread financial stakes. Projects are planned on the basis of a project revenue stream, allowing loan finance to be repaid. For example, projects can be used to initiate the release of subsidies or contracted payments from local, state and central government. Additional revenue can also be drawn in from sales of residential units, commercial space or plots.
CLIFF's loan finances and support grants ensure that communities can begin work on a project and develop it to a certain stage before they can secure project revenues from government or other sources. This initial capital is also meant to help the Alliance cope with delays in funding disbursements and late-payments by their government partners (the Alliance refuses to pay any bribes!). In some cases it has helped to leverage land and infrastructure provision directly from local authorities. By June 2005, allocated CLIFF capital funds of just over GB£5 million were projected to draw in revenues totalling over GB£25 million for the portfolio of 13 projects.
The Alliance has also managed to negotiate loan finance from formal financial institutions and to use CLIFF to negotiate pre-financing with private contractors, who are required to invest their own funds and share some of the risk associated with the project.
The CLIFF process also works most effectively where local authorities are open to new approaches and willing to work collaboratively with organizations of the urban poor. It also works best where financial markets are sufficiently developed to enable banks and other financial institutions to begin a process of dialogue on provision of financial services to the urban poor.
Go back to case studies listing
Furhter information
Homeless International web pages on CLIFF offer a wide range of information on CLIFF experiences in India and Kenya. CLIFF monitoring reports and annual reviews, background research documents from Homeless International's Bridging the Finance Gap in Housing and Infrastructure project, as well as several documents and articles about CLIFF are also downloadable from the Homeless International website: http://www.homeless-international/cliff
D'Cruz, C. and Satterthwaite, D. (2005) Building Homes, Changing Official Approaches: The Work of Urban Poor Organisations and their Federations and their Contributions to Meeting the Millennium Development Goals in Urban Areas, IIED Working Paper on Poverty Reduction in Urban Areas no. 16, IIED, London. This article can be downloaded from IIED website: http://www.iied.org/pubs/pdf/full/9547IIED.pdf
Burra, S. (2005) 'Towards a pro-poor framework for slum upgrading in Mumbai, India', Environment and Urbanisation, 17 (1) pp67–88.
SPARC website
http://www.sparcindia.org
and Nirman website
http://www.nirman.info/new/home
Source:
Malcolm Jack (Homeless International UK)
Contacts:










Homeless International
Queens House
16 Queens Road
Coventry CV1 3DF
United Kingdom
Tel: +44 (0) 24 76632802
Fax: +44 (0) 24 76632911
Website:
www.homeless-international.org
SPARC (the Society for the Promotion of Area Resource Centre)
PO Box 9389
Bhulabhai Desai Road
Mumbai 400 026
India
Tel: +91 22 2386 5053 / +91 22 2385 8785
Fax: +91 22 2388 7566
e-mail:
admin@sparcindia.org
/
sparc@vsnl.in
This special feature sponsored by the Department for International Development (DFID) and the Royal Town Planning Institute (RTPI)